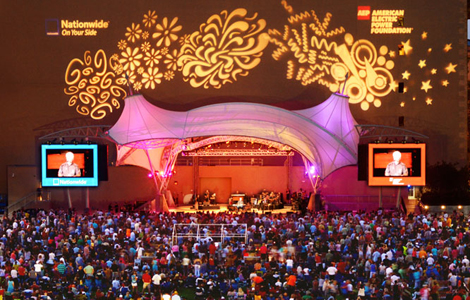 Construction of the Columbus Bicentennial Pavilion was the signature capital project celebrating Columbus' bicentennial in 2012. Since its completion, the iconic structure has drawn the central Ohio community to the heart of Downtown for live concerts and entertainment year round.

The Columbus Bicentennial Pavilion was designed by FTL Design Engineering Studio, the same firm that designed the Capitol Concert Pavilion in Washington, D.C., the Carlos Moseley Pavilion in Manhattan, and the Cirque du Soleil Theater at Disney World. The design for Columbus is exclusive: a one-of-a-kind, white tensile fabric canopy structure with a 40 foot by 60 foot stage and state-of-the art lighting, video, and sound equipment.

The Columbus Downtown Development Corporation began construction on the Columbus Bicentennial Pavilion in the fall of 2011 and the Pavilion opened in May 2012, just in time for the beginning of the annual event season. The project was funded by a public private partnership led by the City of Columbus, American Electric Power, and Nationwide Insurance.