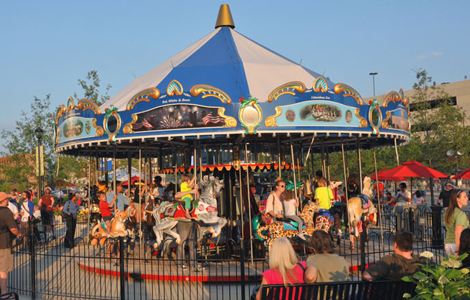 Travel the downtotwn skyline on a one-of-a-kind ride that takes off and lands right in the heart of Columbus Commons.
No matter what your age, there's something deliciously irresistible about a carousel. The Columbus Commons is proud to host a breathtaking carousel at the southern end of the park near the children's reading room. The park's carousel is kinetic art in its finest form.

Surrounded by the gorgeous gardens, the carousel's characters were hand-carved by Ohio artists at Mansfield's Carousel Works. It offers classic fairytale trips atop a princess horse or frog prince. Or try out the OSU Buckeye horse and chariot... along with a host of other fantastically curious creatures.

All ages are welcome to take the carousel for a spin. Giddy-up, hop on board and play I-Spy –can you spot the Statehouse and COSI? Can you spot the zoo? Yes indeed: the carousel's rounding boards proudly display images of the very best of Columbus -it's a whirling city tour in one stop.