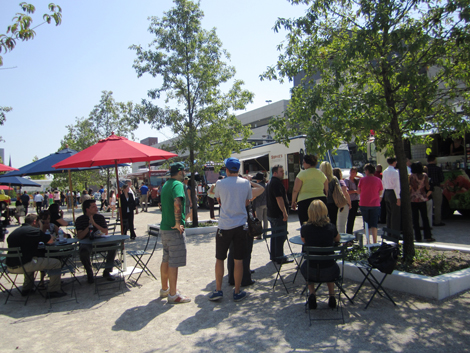 Food Truck Food Court Kicks Off May 8
Enjoy a plethora of fantastic lunch options on Thursdays at Columbus Commons from May 8th through October 30th. The Food Truck Food Court features local food trucks serving up some of the best eats Columbus has to offer. Enjoy unique dishes from Challah, Paddy Wagon, Pitabilities, Tatoheads, The Angry Wiener, Tortilla, and starting July 17 - due to fan demand - Hungry Monkey and Junior's Tacos will be joining the lineup, along with two more trucks rotating monthly.
Food trucks will not be selling beverages, so be sure to stop by the Columbus Commons beverage tent near the carousel to make your purchase. $2 cash only. Our Pepsi machines near Mikey's Late Night Slice take credit card.
Be sure to give #ColumbusCommons and the food trucks a shout out on Facebook, Twitter, and Instagram while enjoying your scrumptuous lunch at Food Truck Food Court.
Food Truck Food Court will not take place on September 18.
Monthly Rotation:
May: Swoop + Hungry Monkey
June: Blu Olive + The Cheesy Truck
July: Ajumama + Teodora's Kitchen
August: Taco Sherpa + My Place or Yours
September: Burrito Bus + MojoTaGo
October: OH! Burgers
Retail Trucks:
We are pleased to welcome the Pursuit Truck, the Boutique Truck and Go-Go Chic on the first Thursday of every month. Stop by their trucks to shop for men's suiting attire and women's apparel.