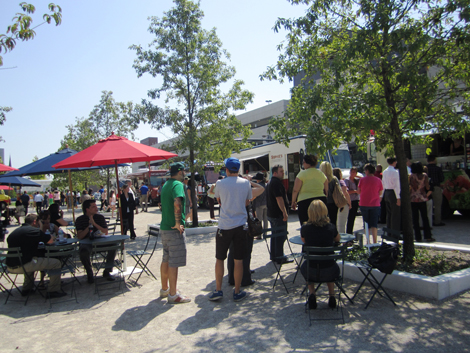 Food Truck Food Court Kicks Off May 7
Presented by Pepsi
Enjoy a plethora of fantastic lunch options on Thursdays at Columbus Commons from May 7th through October 29th. The Food Truck Food Court features local food trucks serving up some of the best eats Columbus has to offer. Enjoy unique dishes from Aromaku, Blue Olive, Mikey's Late Night Slice, Mixing Bowl Asian Grill, Paddy Wagon, Pitabilities, Red Plate Blue Plate and Schmidt's Sausage Truck, along with two more trucks rotating monthly.
Food trucks will not be selling beverages, so be sure to stop by the Columbus Commons beverage tent near the carousel to make your purchase. $2 cash only. Our Pepsi machines near Tortilla take credit card.
Be sure to give #ColumbusCommons and the food trucks a shout out on Facebook, Twitter, and Instagram while enjoying your scrumptious lunch at Food Truck Food Court.
Food Truck Food Court will not take place on September 17.
Monthly Rotation:
May: Taco Sherpa + En Place
June: Ajumama + Angry Weiner
September: My Place or Yours + Hot Chicken Takeover
Celebrate May National Egg Month at the Commons
Try new egg menu items in May at the Food Truck Food Court
Celebrate National Egg Month in May by trying a new egg-inspired menu item from the 10 participating food trucks at the Columbus Commons! For the first time, Columbus Commons Food Truck Food Court is partnering with Ohio egg farmers to offer a new EGGcellent item each week of the month incorporating the following themes:
May 7: Deviled eggs
May 14: Eggs in a sandwich
May 21: Breakfast for lunch
May 28: Most unique and tasty egg dish
The food trucks will be competing each week for the tastiest and most creative dish, so make sure to share the love for your favorite egg menu item using the hashtag #614Eggs.
Ohio is the second-largest egg producing state in the nation, producing more than 8 billion eggs each year. Don't think of eggs just for breakfast – the opportunities for eggs are limitless. For more information or delicious recipes, visit www.OhioEggs.com.