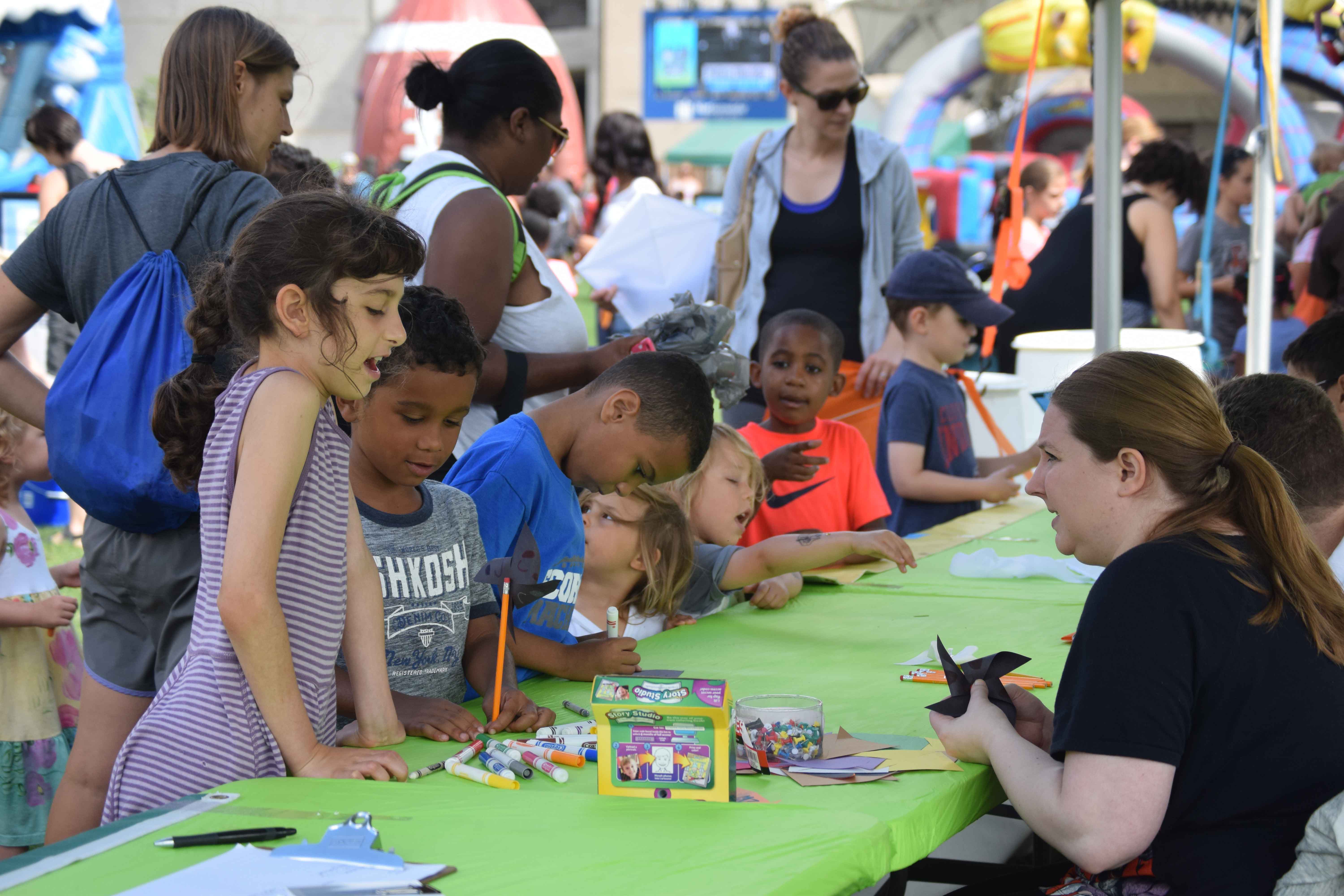 Our Friday morning focus is officially on the kids of Columbus. Little people can give the carousel a whirl or hit the bounce-houses free of charge. We've got something for every kind of tyke with the Imagination Playground, Art Box, and a mammoth chess board that would make the Red Queen jealous. If Mother Nature cooperates (when the temperature is 80 degrees or above), we will feature an inflatable water slide and kid's swimsuits are welcome.
Join us again on the last Friday of each month for a special Kiddie Fitness class during Commons for Kids from 10:30 am - 11 am. This workout is for the young and young-of heart alike so parents feel free to hop in and get moving!
Park at the Columbus Commons Garages (55 E. Rich Street, 191 S. Third Street) for convenient, affordable parking just steps away from the park!
Looking for more family friendly events to attend at Columbus Commons? Check out this page of family-friendly options at the Commons.
Below is a list of special activities for each of the 11 Commons for Kids this summer. These activities are subject to change based on weather and partner availability.
May 27 – Kick off the summer at the first Commons for Kids of the season! Make a paper bag puppet, get your face painted or take Yoga for Kids class (10:30 am). Our friends from Lowe's will also be on site to help you plant your very own plant that you can watch grow throughout the season. Swing by the Bosque at Noon to enjoy a special performance by Mr. Puppet that is sure to get you chuckling.
June 3 - This week kids will get a chance for constructive play at the Bricks for Kidz Lego station, plus they can experiment with building boats and test their newly created watercrafts at our water play station.
June 10 – Back by popular demand, Ronald McDonald will be débuting a new performance at 10:30 am that is sure to entertain event-goers of all ages. The Columbus Zoo will be at the park from 12 pm – 1 pm with a slew of exotic animals to see and touch, plus you can make your very own animal mask. We'll also have our Putt-Putt set out, so you can work on your short game.
June 17 - The Sierra Club will be on site to lead a special wind-turbine activity in celebration of Global Wind Day. Kiddos can try their green thumb at the Lowe's planting station where they can start growing their very own plant. Erica Carlson will also be around twisting up some crazy balloon creations.
June 24 – Fit Club will be leading a special Yoga for Kids class from 10:30 am – 11 am designed to get kids moving. If you're interested in a sweet treat, stop by the cookie decorating station to make your own edible creation thanks to Kroger (500 available, while supplies last). Or stop by the Salvation Army's LemonAiD stand for a refreshing beverage and to learn more about how kids can help their community. From 11:30 am - 12:30 pm, kids can sing along with the Columbus Folk Music Society to some of their favorite tunes. Visit Pittsburgh will also be onsite with a fun leaf activity. Plus, don't miss the opportunity to have your picture taken in Daniel Tiger's mini trolley!
July 8 – Today the park will be packed with all of your favorite mascots, which will surely lead to tons of picture-perfect moments. Be sure to include #columbuscommons and your shot may be selected as our Fan Photo of the Week. You'll also get the chance to tour the US Bank RV that will be on site. Be sure to check out the Bricks for Kidz Lego play station, theatre workshops by Columbus Children's Theatre, the Buckeye Mobile Tour and a special craft from OSU Urban Art Space when you visit!
July 15 – It's safety day at the Commons! Learn about fire safety through the Columbus Fire Department's Fire Safety House, and Columbus Police officers will be on site, showcasing some of the special equipment that they use to keep Columbus residents safe. Plus the usual Commons for Kids fun, like inflatables, carousel rides and Buckeye Mobile activities. There will also be a ID a Kid Station, thanks to Prudential.
CANCELED: July 22 – Where do we begin? Lowe's will be on hand again leading a planting activity, and Erica Carlson will be twisting balloons into masterpieces. We'll have a station where you can make your own kazoo and the Columbus Folk Music society will be playing some tunes. If that weren't enough there'll be putt-putt too!
July 29 – Start your Friday off the right way with another Kiddie Fitness class at 10:30 am. OSU Urban Art Space will be in the park leading a special craft and face painting will also be available. Ronald McDonald will be back at the Commons for a special performance at 11:30 am.
August 19 – Putt-putt will be available for kids to test their skill and have some fun, and who knows, maybe they'll be the next Tiger Woods! Kids will have a chance to get creative with bubbles in the bubble play zone. Stop by the Bosque near the carousel between 11:30 am - 12:30 pm to join the Columbus Folk Music Society in jamming to some of your favorite folk tunes.
August 26 – The bubbles will be back and so will Ronald McDonald! This time enjoy "The Red Shoe Revue," a magic and variety show geared toward pre-school aged children. The show will take place in the Bosque by the carousel at noon. Catch one final Yoga for Kids class at 10:30 am. And be sure to stop by the We Joy Sing booth for some music-based play.