Arizona craft brewer moving forward with approval process for downtown pub
Tuesday, April 25, 2017
Dan Eaton
Columbus Business First
Downtown's brewpub is getting closer to reality.
Tempe, Arizona-based Blasted Barley Beer Co. will appear before the Downtown Commission Tuesday morning seeking a certificate of appropriateness for its planned 6,000-square-foot brewpub at 160 S. High St. in the Highpoint on Columbus Commons.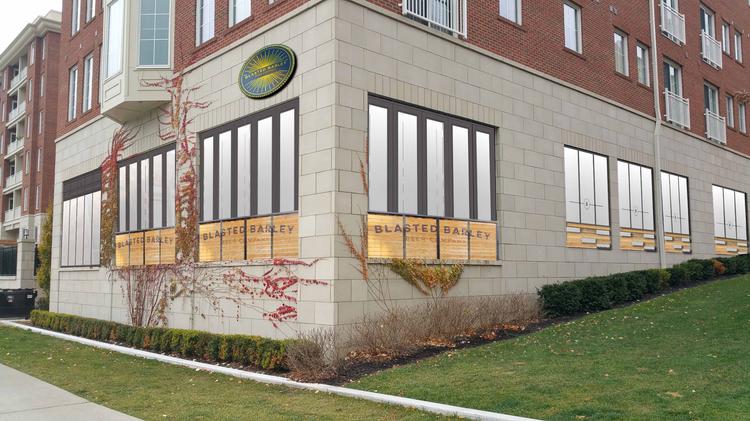 EnlargeTempe, Arizona-based Blasted Barley Beer Co. will appear before the Downtown Commission… more
"It's a signature space that's going to mirror where De-Novo is," Leasing agent Todd Schiff of Robert Weiler Co. previously told Columbus Business First. "We're very excited to get them. They'll kill it there. They do a Sunday brunch, they have great food. It's perfect for Highpoint and downtown."
The company answered a few questions via email when its arrival first was announced late last year and at that time said it expected to open within six to nine months.
It has not yet answered questions on an updated timeline.
According to plans submitted to the city the restaurant will hold around 200 customers. Drawings show a brewhouse and dining area toward the front of the space with a bar running the length of the building.
"When looking at various locations for expansion, Columbus was always near the top of our list as the brewing community is very strong," Assistant General Manager Matt Petrick told me last December. "We chose Columbus because we wanted to expand our brand out east and spread the ideals we have built our Tempe location on. ... We do many things in search of fun. The most prominent is of course brewing beer. We love to make and celebrate the making of beer and provide the best atmosphere possible to enjoy said beer. We also do weekend brunches as well as host myriad live entertainment options from solo artists, full bands and DJs."
Dan Eaton covers retailing and restaurants for Columbus Business First.